Supermodel Kate Moss' magazine cover was finally revealed on Monday, where she is shown in a sexy mask with bunny ears as she poses topless.
Kate, 39, shows off her slender figure in a huge 18 page spread of their January/February 2014 issue.
Kate Moss, who will be celebrating her 40th birthday in 2014, strips down for the men's publication.
The beautiful photos were taken by top fashion photographers Mert Alas and Marcus Piggott, showing Moss in the traditional sexy bunny outfit with a fluffy white bunny tail and black silk bunny ears.
The model will appear at her designer friend Marc Jacob's Mount Street store in London on Monday to celebrate the release of her cover. One of the shots from the spread was blown up and placed in Jacob's store window.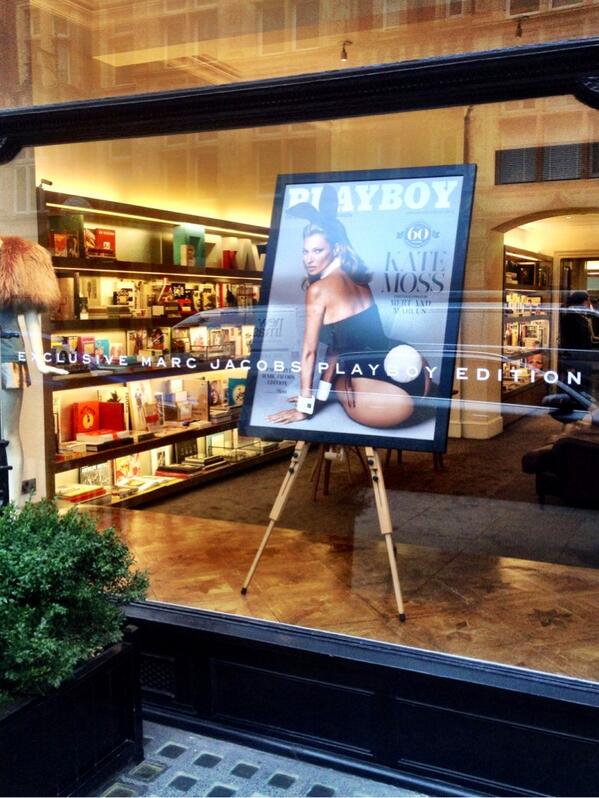 Editorial director Jimmy Jellinek stated, "Playboy's anniversary edition is a testament to 60 years of beautiful women, discerning taste, sexual emancipation, groundbreaking fiction and world-changing journalism. Having Kate Moss, a global icon and the most important supermodel of the past 25 years, appear on our cover makes this issue the perfect way to launch Playboy's next 60 years."
Playboy founder and editor-in-chief Hugh Hefner said, "Sixty years ago, I created Playboy magazine with an intent to reflect on and influence the cultural changes taking place in America, as well as to become the voice of sophisticated men all over the world. From its beginning, Playboy has stood for freedom of speech, freedom of choice and freedom of the press. I am so proud to celebrate this anniversary as the magazine continues its mission to promote these core values many decades later."
Kate, who is married to musician Jamie Hince, is mother to 11-year-old Lila Grace, by her former boyfriend Jefferson Hack.
Click thumbnails for larger pictures
Images: wenn.com/Playboy